When the weather turns colder and the festive season approaches, there are few things which evoke the excitement of this magical time quite like Christmas trees. The image of a beautiful evergreen, standing six feet tall and decked out with magical lights, glittering glass baubles, and shimmering tinsel and ribbons, is enough to make even the Grinch crack a Christmas grin.
In this article, we answer all your questions about Christmas trees, and give you a few tips for making the most of your tree this year.
Where did the Christmas tree originate?
You may be wondering which country started the Christmas tree tradition, and where Christmas trees come from. Germany is often credited as the original country of the Christmas tree.
Long before Charlotte popularised the tradition, it was well-established among German Christians from medieval and early modern times. Today, Germany is still a world leader in producing Christmas trees!
What type of tree is a Christmas tree?
Christmas trees are almost always evergreen conifers, such as pine, fir, or spruce trees. These are evergreen trees with needles which grow throughout the winter, reminding us of the hope of Spring yet to come and the Christian promise of endless life. They're very hardy and sturdy, with strong branches to hold ornaments, and crucially, they smell amazing.
How long does it take to grow a Christmas tree?
The average six-foot Christmas tree, popular among consumers year on year, can take anywhere from six to twelve years to grow to its full height. That is a serious commitment, especially for a plant which is harvesting mostly commercially, only once a year, and kept for just a few weeks!
These enormously popular trees must be grown continuously and harvested regularly to keep up with the considerable demand issued by consumers.
How long does a real Christmas tree last?
With proper care and attentiveness, you can expect your real Christmas tree to last around four weeks on average.
Four weeks should generally be sufficient for the festive season, but if you want your tree to last longer, try an artificial Christmas tree. Whether you're looking for something truly decorative and pre-dressed, such as a bright-pink pre-lit tree, or simply want something more subtle that resembles the real thing without the yearly investment, an artificial tree is one less thing to worry about in a season which is already busy enough.
Can you replant a Christmas tree?
The answer to this popular question is yes, but you will need to plan ahead. It does take a lot of work to keep your Christmas tree alive long enough to replant it, so pay attention and take a look at this website if you need more detail!
Make sure you dig your planting hole well in advance – chances are, by December the ground will be too stiff to do any serious digging. You'll need to make sure you buy a tree with intact roots. Unfortunately, most trees you can buy at Christmas markets and street stalls are usually cut weeks before, so there's no chance of replanting.
Once home, keep your live tree somewhere like a shed, and water the root ball. Only bring your tree inside for a few days. This means you should probably bring it in on the 23rd or 24th of December, so you can enjoy it for the big day! Keep the room cool and keep the roots moist.
Once the holidays are over, make sure you quickly take your tree back outside, and then replant it.
How to keep a Christmas tree alive
So, you want to know how to look after a real Christmas tree? In general, they are quite low-maintenance plants. When you get your tree home, be sure to place it in a stand which holds water or a bucket, and regularly top it up.
How often to water your Christmas tree depends on factors such as the temperature of the room and how old your tree is. Remember to keep the room reasonably cool or try a humidifier to prevent the tree from drying out.
If you're wondering where to buy your Christmas tree to give it the best chance of survival, choose a local market or Christmas tree farm over a garden store.
When can you put up your Christmas tree?
Traditionally, Christmas trees went up on the first day of Advent, four Sundays before Christmas Day. This year, that will be the 28th of November. Some people also choose to put their tree up 12 days before Christmas.
How to decorate a Christmas tree
Most of us probably had our first lessons in how to dress a Christmas tree as children, helping our parents decorate. Here's a quick recap!
Begin by fluffing the branches of your tree to get the best shape, then start with the lights. To put lights on a Christmas tree, begin at the base and wrap upwards, unravelling the lights from the plug or battery until you reach the top, where you can start working downwards. We recommend 15 metres of light for a standard six-foot tree.
If you want to add a touch of luxury, put a ribbon on your Christmas tree. Use a wired ribbon over a soft one, mobilise those artistic instincts, and go wild! You can work downwards from the top of the tree, wrap it around in place of tinsel, or tie smaller ribbons around individual branches. The choice is yours!
When should you take your Christmas tree down?
So, the holidays are over, and sadly you must say goodbye to your beautiful tree. But when is the best time to take the Christmas tree down?
The traditional end of the season is Twelfth Night, on January 5th. This is extra nice because you get to keep the tree for New Years, and enjoy the festive atmosphere, but past this date your tree will probably start to look a little worse for wear.
How to dispose of your Christmas tree?
You might be wondering where to bin a Christmas tree. Most local councils will accept the tree whole, with no leftover decorations, from the end of December to the middle of January. Leave it out on rubbish collection day with your regular bins, and it should be picked up.
Other councils may require you to chop it up and dispose of it as garden waste or compost, so be sure to check to ensure you do the right thing. Artificial Christmas trees cannot be collected and will need to be disposed of at a tip or a dump – but store it in your attic instead and keep it for next year!
Are Christmas trees poisonous to pets?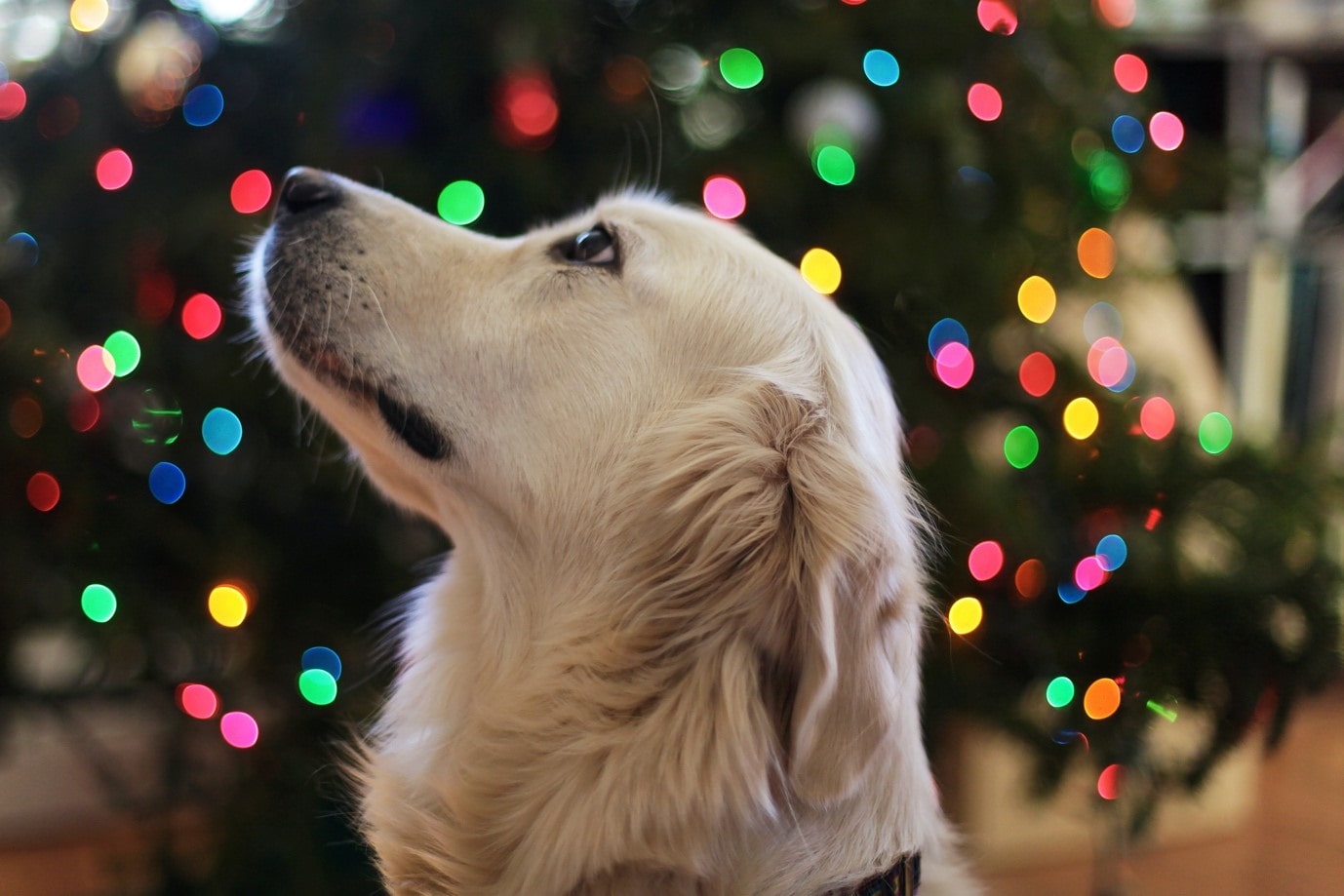 You might be wondering if Christmas trees are poisonous to dogs or cats, or if your rabbit can eat your Christmas tree.
The tree's sap and needles may cause an upset tummy or irritate your pet's mouth, and there is a small risk that your pet will ingest the needles, which could cause intestinal perforation. Be careful not to let your pet drink the tree's water either, as pesticides and fertilisers can leech into it and be extremely dangerous.
A good rule of thumb is to supervise your dog, cat, or rabbit during playtime, and to keep them out of the room with the Christmas tree when you're not around.
How to stop cats climbing Christmas trees
The dangling ornaments and twinkling lights of a Christmas tree are almost irresistible to cats, particularly curious kittens. To stop your cat climbing your tree, hang the decorations higher and ensure they're securely attached, so your cat isn't tempted by glittery items close to the ground.
Make sure your tree is well-weighted at the top and bottom and consider tethering it to the wall or ceiling to provide greater stability. And finally, supervise your cat and don't allow them into the room with the tree when you are not with them.
In conclusion, it's clear that Christmas trees are a totally magical thing. With a rich history, this beautiful tradition has the power to evoke the holiday spirit like no other. With a little care and attention, you can pick the best possible tree, keep it stunning all season, safe from pets and dehydration, and be confident in disposing of it once the holidays are over.
Sources:
History of Christmas tree - https://www.housebeautiful.com/uk/decorate/a30322567/why-do-we-have-christmas-trees/
How Long Do Christmas Trees Last? - https://www.goodhousekeeping.com/holidays/christmas-ideas/a24803/tips-to-keep-a-christmas-tree-fresh/